Recherche
The most frequent searches :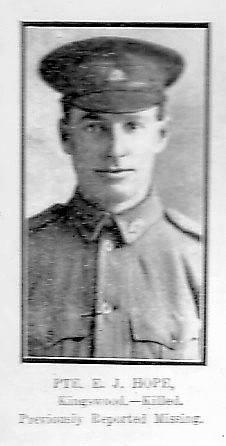 Edward James Hope
Private 4188, 54th Bn, 14th Brigade, Single, Age : 28
Born : Penrith, New South Wales, Australia
Address : Kingswood, Penrith, New South Wales, Australia
Railway employee
Born in 1895, Edward lost his parents three years later and within a few months his infant sister. It is presumed that Edward and his remaining sister, Florence, were raised by relatives. 
He fought during the battle of Fromelles and was reported missing. The German Army put his name on death list in August 1916 and sent his identification disc in October. 
The Australian Army sent a letter to his sister explaining that he had been killed in action and certainly buried by the German Army.